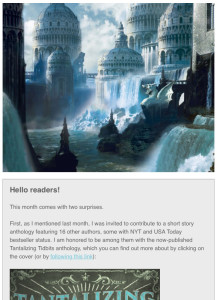 Are you a fan of John's writing and want to stay up to date on his progress as an epic fantasy writer?
Every 7 weeks, John writes a special fan newsletter with behind-the-scenes glimpses into the writing process for his debut epic fantasy novel, A Thousand Roads.
Just like in his informative blog articles for writers, John takes the time in his newsletter to teach writing concepts and share specifics on what he's learning. For fans eager to one day experience the rich fantasy world John brings to life with his writing, this newsletter gives you a solid sense of the progress he's making. For fans of epic fantasy who enjoy John's posts and want to learn more from him, the newsletter is an additional educational resource, using A Thousand Roads as a case study.
Join the newsletter here:
Do you enjoy John's blog posts on writing craft and editing techniques?
The epic fantasy writer blog features a wide variety of articles, including guest posts, and articles by John on a variety of topics beyond writing and editing techniques. If you follow the blog, you'll get all of these posts, but if you prefer to ONLY get articles on writing craft and editing techniques, then you can do so by signing up for the Story Perfect Editing Services newsletter:
http://www.storyperfectediting.com/newsletter/
(Note: if you follow the blog already that means you'll receive the writing / editing articles twice when they go out; to receive ONLY writing / editing articles, unfollow the blog after subscribing to the newsletter)