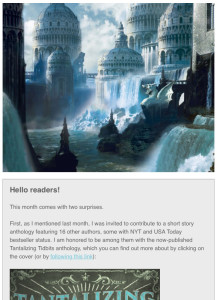 Want to stay up to date on John's progress as an epic fantasy writer?
Periodically (usually between drafts) John writes a special fan newsletter with behind-the-scenes glimpses into his writing process.
For fans excited by the rich fantasy world John brings to life with his writing, this newsletter gives you a solid sense of the progress he's making.
Writing a fantasy epic is a slow process. It takes time and great diligence, and lots of patience. John, however, is a firm believer in sharing his process so that, rather than waiting years for a next book, readers can appreciate how these books evolve into the final product.
Join the newsletter here: